The 206 card influx this past week is inflated because I had to hand input the team for all 152 of the Upper Deck Documentary set and it takes about a day for the database to count them on
Trading Card Database
.
However, it was no small week in the collecting world.
Dan at
I'ts Like Having My Own Card Shop
and I completed a trade this week where I sent him a 1988 Topps Traded Roberto Alomar XRC and some Diamondbacks for a load of Tigers specifically from 1994-now. WOW! All kinds of cards I didn't have, you all need to go to Dan's blog and make a trade with him, well worth it.
The trade has reinforced the need to buy a scanner to share my own cards rather than searching for the images online as I cannot find my favorite cards of the trade out there in the web.
BUT!
This Matt Brunson RC made it into the Nothing But Tigers binder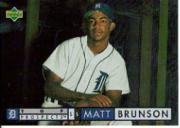 Ryan over at
Building a Better Collection
reached out and claimed some cards off my
Clear my Desk --- You Get Cards
post towards the end of the holiday, boosting his Braves collection. He in turn sent sent me a package this week and I was blown away by the diamond sparkles!
"Everything that glitters is not always gold..."
but they may be diamonds!
This Jose Valverde made it's way into the Nothing But Tigers binder collection
Trammell of the Week, I won through eBay bringing the total to 155.
Sorry Tram no trip to Cooperstown this year, maybe next.
Lastly, Ryan at
"O No!" Not Another Orioles Blog?!
Sent over a Rick Porcello, who may be on his way out of the D, but I hope we stick with him, his numbers are similar to a guy named Dwight Gooden at his age. Ryan also is helping me out with his 1984 Topps for my Working Backwards set build for some Orioles to be named later. Thanks Ryan!
I have some more trades coming in this week and need to mail some more out.
Worked on putting all my 1985 Topps in a binder today, I need about 110 more cards to finish the set.
I also have some 800 count box of 1990 Pro Set for trade.
Keep it Hot on the Corner, pat.