So I have reached a point where I have bought enough packs, rack packs, re-packs --- where I need to start sorting and disperse. Sparked by the post by
DocHoloday.com
Off to the LCS for two 3,000 count boxes to fill up and sort by team.
Eventually, the big goal is to have my own table at a local festival this summer.
Call me crazy, but I think I may want to try and change over to a dealer (if not just for a day) and try my hand and have some fun.
So what should I have....dime boxes, quarter boxes, dollar boxes, team sets, packs, older, newer, ...????
What makes a great table???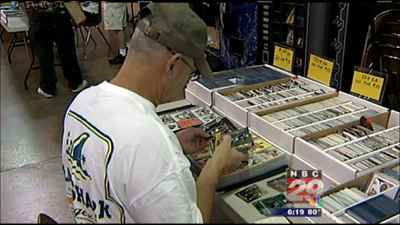 Already beginning to work on a variety (because not everyone just collects Tigers)
In the end, it will be fun trying this new thing.
Why not?
Keepin' it Hot on the Corner, pat.