I was sad to hear that the oldest living Tiger, Virgil Trucks passed away Sunday. He threw two no-hitters during the 1952 season (a glimmer in an otherwise dismal, three digit loss season for the Tigers) and came back from the war to win Game 2 of the World Series in 1945 to help the Tigers defeat the Cubs. The great Ted Williams said Trucks was tougher to hit against then Bob Feller, relieved that Tigers had traded Trucks to the National League. I have absolutely zero of his cards, so I will start keeping an eye out.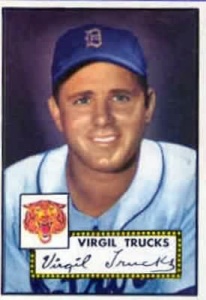 Another explosion in the mailbox this week! A couple hundred more Tigers to add to the collection, at this pace we will clear 6,000 by the end of spring!!! A couple more team sets completed, moving right along.
A whole lot of people contributed to this week, you know who you are, I simply cannot keep up with all the cards piling up on my desk and I am not helping matters by impulsive searching for auction deals on the bay.
A nice auction win this week included 23 1959 Topps Tigers in pretty decent shape, some well loved, but these are Tigers, how can they not be well loved. A couple highlights here...
Closing in on this team set that includes Al Kaline, clutch!
Some cards that I have are sometimes difficult to find on the
tradingcardDB.com.
Mostly because the team hasn't been assigned to the player. So the number of Tigers at times grows a little faster each week. Love the site, use their service, it's awesome
Well with all that Mach Madness and cold weather out there grab some cards and a binder or some top loaders and keep warm enjoying those cards because Opening Day is right around the CORNER!!
Keep it Hot on the Corner, pat.