I went out to another hobby store in the greater Lansing area for "Trade Night". I really didn't know what to expect but I was pretty excited to see what it was all about.
When I got to the store, there was only two workers and two customers huddled around the counter. The kid had just pulled an RG3 auto! I introduced myself and announced I was willing to trade. I have been combing through my football cards and trying to get rid of them. The older customer pulled out a Molson Canadian soft pack cooler filled with autos and relic cards. Unfortunately, mostly football and only one Tiger.
I searched through it all and he piled up the football that he wanted.
So I found a 2011 Topps Chrome Trevor Bauer Auto Refractor Blue RC....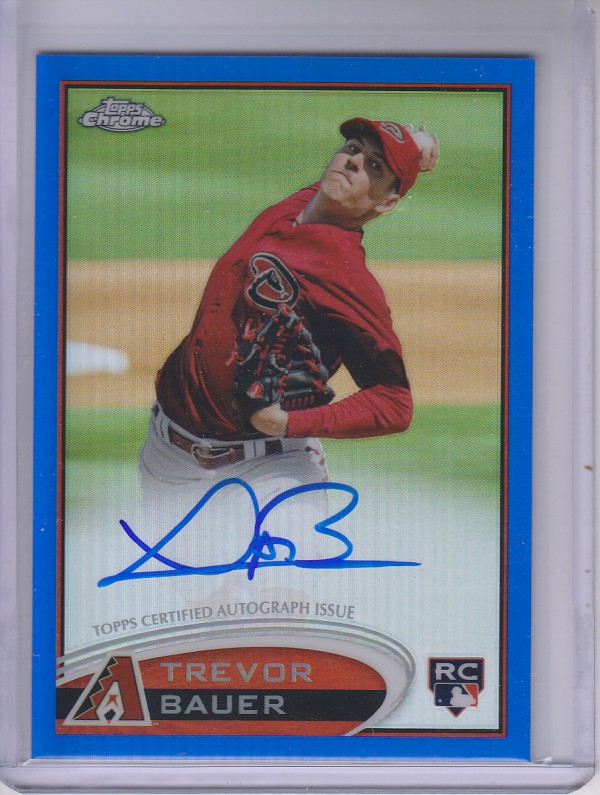 ...and this Denny McLain Limited Auto

I gave up 2002 Topps Football Michael Vick, Drew Brees, and (2) LaDainian Tomlinson Rookies.
I wrestled with the trade, please comment on the deal.
My very first auto that I got in person was from Denny McLain back in the late 1980s or early 1990s at a card show (possibly the Detroit Auto Show), so coming full circle back to the hobby Denny is aquired in my first adult trade.
I am going to make a regular habit of getting out to the Lansing Mall and make more trades, who knows, maybe I will get back into football.
Speaking of other trades I sent about 300 Blue Jays to Robert at
$30 Habit a week
and looking forward to what he sends back my way!
Keep it hot on the corner.