What a great idea!!! Have a draft of the cards you can't trade or need. I quickly jumped in the Jaybarker
draft
a couple of weeks ago to kill the winter blues.
I also sent him some vintage,
here
are his thoughts on that.
Plenty of Tigers available so many of my selections were of the Bengal variety (Surprise, Surprise)
With the first pick the Hot Corner Cards select....
Justin Verlander 2007 Fleer Rookie Sensations
No brainer here, MVP, ROY, CY Young, why not? I was surprised Kirk Gibson Baseball & Boardwalk went ahead in this round.
The Second Round Selection of Hot Corner Cards selects....
Jack Morris 1984 Topps Glossy Send In
Mr. Hall of Great (for now) still in excellent shape, solid selection
In the the third round Hot Corner selects....
1997 Pinnacle/Denny's Hologram
Probably a reach here, most likely would have been available in a later round, but couldn't pass this up.
Fourth Round - Nate Robertson 2008 Allen & Ginter - State Card
Real thick card, totally unrelated, Robertson benefited many seasons in my EAS Sports MVP dynasties with multiple All-Star game and CY Young wins in the dreadful 2000s. No idea he was from Kansas, players who wear glasses are also cool.
Fifth Round - Jack Morris 1988 Topps UK Mini
Closing in on the set here, one more to go, more Jack (no wonder he's no.4 in my PC)
Sixth Round - Jack Morris 1986 Fleer Star Sticker
More Jack, Pepper Jack, Jack n Coke, Jack Rabbit
Seventh/Eighth Round Pick - 2007 Allen & Ginter MiniiiiiiiS !!
Jimmy Smokes & Bondo
Really hope the best for Bonderman with Seattle in his comeback, he never seemed to have a good 1st Inning but ate alot of innings at a young age for bad teams.
Tenth Round - 1986 Sportflics Eric King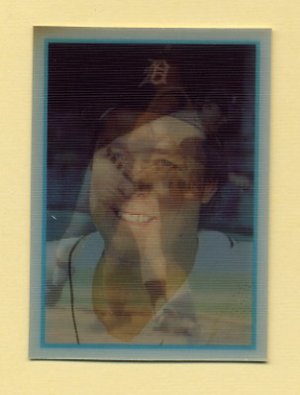 Pitched for the Tigers in the post World Series years, need to read up on the baby face man.
Great idea Wes! Count me in for the next one.
I am going to do one of my own prior to Opening Day!!! Stay tuned.
Keep it Hot on the Corner, pat.