So I have been sick and have had some time to see what others are enjoying with the "Pack Opening Day"
It didn't take long, I caved to the pressure of the new items on the market.
I already bought 2 team sets on ebay today, I don't need any topps packs.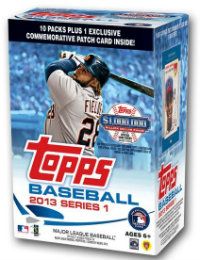 Good God Almighty, those Prince Fielder poster boy cards do look sweet!
No, I do not need these cards, don't want to have 70 other cards lying around the desk with all the other cards needing to be sent out and traded.
But, that Avisail Garcia rookie card is so slick!
Those 72 minis are ok.
Alright, fine. Just this once. Three more Tigers filled the need in Fielder, Garcia, and Santiago.
I do like the style, I do like the Tigers, but I think I am out on this entire set build.
Trade bait will be up later,
Keep it Hot on the Corner, Pat.