A huge loss became a harsh reality today as I traveled to the farther LCS today all closed up. This was a nice change of pace card shop when I needed some supplies or some cards in a pinch. Too bad that they couldn't stay open.
Sometimes ebay huge lot buys are hit or miss. I won a box of 500 Tigers online which helped propel the number of Tigers this week, I would estimate 3/5 of the cards were new to the collection. Plenty to help out the Nothing But Tigers binder, not to mention a boost of almost 200 this week, Lots of good stuff.
Up to 180 some Trammell's in the PC, added two O Pee Chee cards via eBay this week.
Another Trammell I added over the holidays in one of my favorite Topps sets....
I've been able to catch up with all my piles of Tigers since December, now it is time to organize them properly.
Another Tiger added this week...

All these new Tiger cards have made me anxious to get the RIGHT NOW!
The card I was most excited about adding this week is Avisail Garcia 2011 Topps Heritage Blue Auto.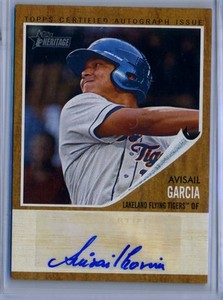 I sure hope this guy makes it big, I am a huge fan. This card is so slick, one of all-time favorites right now.
Pitchers and catchers report this week, thank God!
Keep it Hot on the Corner, pat.