The mailman popped by my place of work yesterday and let me know he had delivered two parcels to my home. Nice! Luckily, I was able to zip home ( I live a three blocks away ) and tear open my new cards.
First, I made a trade with Robert of
$30 A Week Habit
of Tigers for Blue Jays.
I was a little reluctant to trade this rare Jack Morris, but it didn't fit my guideline and I figured it would be good for the trade.
What I got back was sheer Tiger-Mania!
Plenty of Verlander, Granderson, a large portion
(update: 59)
of the era (1995-2010) I had been missing along with a hefty set of 2012 Topps Update to get my set closer to being finished.
One of the last cards I found in the Tigers stack
None other than a Diamond King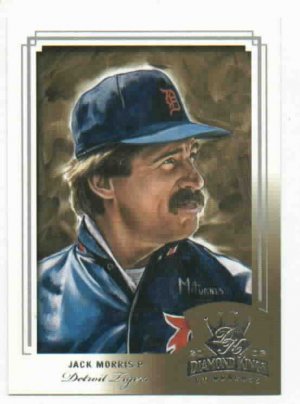 Thanks Robert!
Keep It Hot on the Corner!